The fourth week, a month on the road, started off in Edmundston after a 160 km ride from Rivière-du-Loup and it was full of adventures as I wrote previously.
This week, I spent it in Edmundston as I could not find good weather to keep going and I also decided to ditch my car and travel unsupported because this trip is starting to become very expensive and I am burning cash so fast.
So, I will get bags and attach them to my bicycle and keep cycling the bare essentials hoping that the weather plays its parts and gives me a break that I much need.
On my first day here, I met up with Mr Cyrille Simard, the mayor whom I met online after he welcomed me to Edmundston and politely corrected my typo (he would eventually tell me that everyone mistypes his city's name so I did not feel that bad)
@JaBig Bienvenue à #EdmunDston 🙂

— Cyrille Simard (@cyrillesimard) February 21, 2016
 And so, I met up with him the first day and the day after, we had a more formal conversation.

Like I mentioned, I returned the next day for an official visit as he also signed my witness statement, a document that tells Guinness World Records that I was really there.
I was pleasantly surprised by the way this mayor is looking to the future to attract young people and keep locals in town. I wish him well.
After I left city hall, I crossed the street and went for a quick interview at Le Madawaska, a prominent weekly newspaper. I spoke about my tour, the reasons behind it and my thoughts of the city so far even if it had only been 48 hours!
These two ladies are probably the most fascinating people I met in Edmundston. They're Stephanie and Kristine. Stephanie founded Rehab Night, an events promotion agency that organises dance parties that attract over 3000 from all over the Maritimes.
Kristine, a long-time friend of hers, just joined her as her assistant and the production agency's first 2016 year event is scheduled in March featuring a DJ from Montréal that I know. What a small world!
Stephanie is only 22 and is already on top of the game! I cannot even imagine what she will be up to in ten years when she turns 32. World domination anyone? Thanks for the Rehab Night beanie! I will adorn it with pride 🙂
We talked for hours and we go hungry so they took me to a restaurant to try out a local pancake called ploye which is eaten with meat or brown sugar.
Let me tell you: it's filling! It's actually very good food for cycling since it can be eaten fast and it takes forever to break down. Most people hate that but I like to ride on a very full stomach!
Another day, another chain problem. Joey, a mechanic at Jessome's La Source du Sport looked at it and put a chain tensioner that should keep the chain in place.
It's insane how the chain issues are the ones that are slowing me down and bothering me the most. But at least they're easy fixes!
This week the weather has been terrible. Everything all at once: rain, snow, freezing rain, fog and unsalted roads which makes a very dangerous travel cocktail.
So, I am going nowhere.
I ate this for dinner. It's a regional delicacy and it's basically tender beef. Meat without any steroids. Organic meat as locals call it! I am not the most adventurous person when it comes to food but I have to get used to it!
France, my wonderful host and Chantal, her friend took me on a road trip where there was an ice hockey meet on a frozen lake! I had a great time there and drank the world's most disgusting hot chocolate. I could not believe how bad it was. Luckily, it was cheap.
We also went to Grand Falls where there is a mesmerising freezing water fall. It's something out of a Disney movie.
On the other side of that frozen river, probably 2km, is the United States!
The next day, Sunday, was more sightseeing…
France D'Amour, my wonderful host, is not fan of photographs but I managed to take one with her.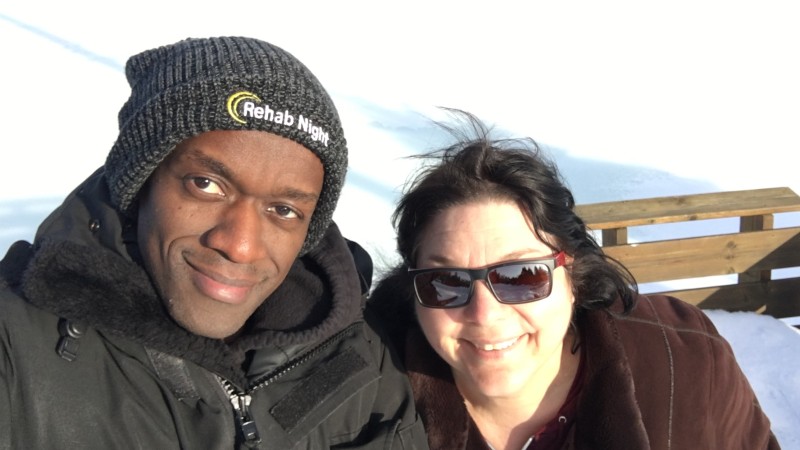 And that was week four! No cycling at all and a lot of tourism. I don't mind, it's part of the trip. That is why I gave myself an extra three months of this Canada bicycle crossing.
I want to be able to stick around some of the places where I enjoy myself the most because while Canada is a very beautiful country, its the people that make it exceptional and so far New Brunswick is exceeding its reputation for friendliness and hospitality!
More adventures coming soon. Thank you for reading and until the next update!